---



Next:
CONCLUDING REMARKS
Previous:
Easter eggs
---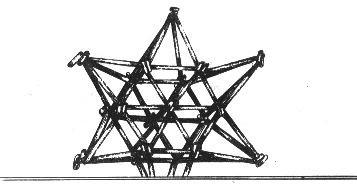 Straw compositions
Straw compositions were used to decorate rooms on various occasions, Christmas trees and the place at the table where the bride and bridegroom sat. Straw compositions are a separate branch of folk art which was very popular in the first decades of the present century. The basic element of every straw composition is a segment made of 12 pieces of straw strung together. Rye straw is sprinkled with water and cut into 12 equal pieces. 8 pieces are strung on a thread the ends of which are tied. Then the string is bent into a figure of eight, folded and the tips tied. Each of the four remaining pieces of straw is strung on a thread, one end of which is tied to each corner of the segment. The other end of the thread is used to join the segment to another one. There is also another method of making straw compositions: three segments of a different size are tied one with another and suspended on a common thread to rotate in the wind. To mark the Epiphany, stars made of pieces of straw of different length were used to decorate rooms.
The most complicated and beautiful straw compositions were "wedding gardens" which were popular in Aukstaitija. These compositions were large, made of a large number of segments. Suspended from its corners are birds, stars and the "gardener". Lithuanian emigrants to the United States use straw compositions as Christmas tree decorations. There are more than 60 kinds of such decorations.

---



Next:
CONCLUDING REMARKS
Previous:
Easter eggs
---
J. Kudirka "THE LITHUANIANS"