---



Next:
Crosses and chapels
Previous:
FOLK ART
---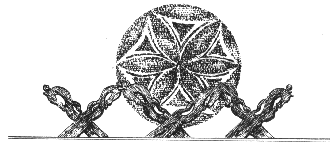 Ornament
The roots of the Lithuanian ornament reach down to the formation of the Baltic tribes. There are four kinds of Lithuanian traditional ornaments - geometrical, plant, animal and celestial ornaments. Geometrical ornaments are the most popular. The, ancient plant ornaments conform more to a conventional style than to nature, their connection with nature being often indicated merely by their names. In the animal ornaments the motif of a horse and birds is the most frequent. Celestial bodies - the sun, moon and stars - also have an important place in the Lithuanian ornaments. The ornamentation of tools used every day is usually not very heavy. In the pre-Christian era and early Christian period many ornamental motifs had a symbolic meaning.
The sun motif. All over the world the sun is the symbol of warmth and kindness. It is the most popular ornamental motif in Lithuania. It is very often used on objects connected with various rites, on sashes, Easter eggs, large and small distaffs, glazed ceramic objects, etc. The sun motif was the obligatory element in the iron heads of crosses and chapels, later in wooden crosses as well. The oldest sun motifs are discernible on archeological finds such as amber weights and distaffs excavated on the Baltic shore. The sun, particularly on wooden objects, is represented by a six-pointed star in a circle.
The horse-head motif is second in popularity. It was used on metal objects, excavated now by archeologists. Since the 18th century it has become one of the most popular ways of embellishing gable poles. Sometimes ornamental motifs on sashes remind of horse-heads as well. As a rule horse-heads are rather stylized.
A PLANT IN A FLOWER POT is an ornamental motif which is third in popularity and is very often used on ancient dowry chests, beds, towel racks, window shutters, pots, distaffs and, more rarely, on home-made fabrics. This motif appeared in the 16th and 17th centuries and gained its greatest popularity in the 18th century. Most often it is a lily or a tulip in a pot, vase or wine glass. Sometimes above the plant or among its branches there is one, two, three, five, seven or even more birds. The blossom may be replaced by the sun symbol and this is very often done on distaffs.
Tulips and lilies are used to ornament ancient wood carvings, dowry chests, woven fabrics, embroidered or knitted articles. They are also used to adorn crosses and chapels.
The grass-snake motif can be found on crosses, small distaffs, Easter eggs, and sashes.
Birds. Images of birds as a decorative element can be found even on early archeological finds. Nowadays, this ornamental motif, represented on folk art objects, is usually rather abstract. (It is only on rare occasions that we can recognize storks or cocks).
Lithuanian ornaments were formed under the influence of the sense of proportion typical of the Lithuanian farmer, the natural colours which surrounded him, and the historical conditions. In the 18th-20th centuries ornamentation was rather heavily used on wood carvings, fabrics, handicraft, cast iron and clay articles, Easter eggs, cuttings.
---



Next:
Crosses and chapels
Previous:
FOLK ART
---
J. Kudirka "THE LITHUANIANS"