---



Next:
ARCHITECTURE AND FIGURATIVE ART
Previous:
Foods
---
APPLIED ART
Lithuanian craft, as a unique form of everyday expression, is closely related to traditions, beliefs and songs. This applied art reveals ways of living, understanding and creating beauty that are passed down from one generation to another. However, the results of centuries of folk craftsmanship, unique from one household to another, exist today mainly in museums. Modern observers are often impressed by this work's subtlety, intricacy, moderation, creative use of native materials and unity of ornament, form and function.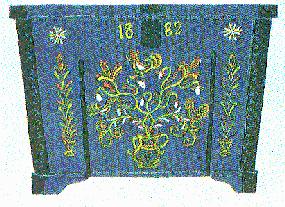 Dowry chestLithuanian women's work tools were especially artfully crafted. Free standing and connected distaffs, mangles, weaving tools were graced with geometric patterns (circles, diamonds, triangles, suns, stars and zigzags) interwoven with plant, tree, bird and other nature motifs. Towel racks and silverware boxes boasted carved contours, relief and perforations. Cupboards, dowry chests and boxes were fitted with beautiful metal bindings and painted with birds, flowers, or plants in vases.
Most Lithuanian women knew how to spin and weave from girlhood. They created white linen towels, tablecloths, bedspreads, bedclothes and pillow covers woven with simple geometric broken bands and square patterns. The edges of these items were hand-worked with red or blue bands, zickai (woven pick-up patterns of color-fast thread), lace or crochet. Beautifully woven towels were hung upon towel racks in living rooms, given as gifts during weddings and used during funerals.
Colored fabrics featured rich yellows, greens, reds, violets and blues accented by black threads. Bedspreads demonstrate great variety in terms of color combinations and ornamentation. They were woven with horizontal and vertical stripes, and plaids using rep, pick-up, overlay and other techniques. Knitted stockings, mittens and gloves were decorated with variously proportioned geometric patterns.
Lithuanian ceramics were characterized by practical forms and moderate decoration. Black clay and colored pottery was common throughout Lithuania. Simple clay whistles for children assumed an astonishing array of shapes: lambs, horses, riders and birds.
Baskets and other items woven from straws, rushes, twigs, bast, thin strips of wood or birch bark had shapes suited to their functions. Sodai (gardens) were intricate hanging straw sculptures which served as decorations at weddings. Their forms, though generally geometric in nature, were quite varied.
Lithuanian Easter eggs were a unique form of graphic and artistic expression. Both scratched and dyed (using a beeswax resist method), eggs sported zigzag, snowflake, star and rue sprig patterns.
Shrovetide masks and verbos of the Vilnius region (dried flower bouquets made for Palm Sunday) are examples of applied art connected to calendar cycle celebrations.
Archaeological finds revealed unique artifacts crafted by ancient Baltic peoples: Neolithic amber amulets, fastening brooches, and other brass, silver or horn items.
In recent years, mass-produced objects have all but replaced handworked items in everyday life. Folk art objects have lost their practicality and become mere household decorations. Unfortunately, the process by which craftsmen passed their skills to further generations has been interrupted. However, modern folk artists have begun actively seeking inspiration from older works through publications and museum exhibitions.
---



Next:
ARCHITECTURE AND FIGURATIVE ART
Previous:
Foods
---
"LITHUANIAN ROOTS", Edited by Rytis Ambrazevicius