Patterns of Žemaitija shirts. Tauragė district.

Cloth of Žemaitija woman's skirt. Mažeikiai district.

Žemaitija woman's skirt. Mažeikiai district.

Cloth of Žemaitija woman's skirt. Southern Žemaitija.
Cloth of Žemaitija woman's skirt. Skuodas district.

Patterns of white underskirt.

Apron cloth.

Apron cloth . Northern Žemaitija. 2nd half of the 19th century.


Apron cloth . Southern Žemaitija. 2nd half of the 19th century.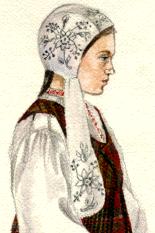 Woman with bonnet. 2nd half of the 19th century.
The Clothing of Žemaitija
Traditional clothing from Žemaitija is often described by comparing it with the clothing of Aukštaitija and by seeing in it a certain stylistic opposition. The clothing's deep colors, dominated by the color red, and the outfit's massiveness lends credence to this idea.
The long linen shirts that women of Žemaitija wore were cut similarly to those of Aukštaitija. Red decorations were sometimes woven into the lower sleeves, cuffs, narrow collars, shirt's fasteners, sometimes - into the sholder tabs. Decorative patterns from Žemaitija were geometric. They were of a delicate, rather simple structure often covering a given area like a web or a small group of stripes.
Fancy skirts in Žemaitija were cut wide and densely gathered. The pleats made women's figures stouter which, in terms of the village aesthetic, was considered very desirable. Nineteenth century women in Žemaitija were not satisfied with only two skirts, they would often wear even more. Outer skirts were usually patterned with vertical stripes. The stripes were laid out in a distinctive pattern which was unique in Lithuania. Especially colorful skirts were worn in northern Žemaitija. They were woven with red, green, yellow, violet, dark red, white, and black stripes, although red was usually the dominant color. In southern Žemaitija, skirts were usually darker and not as bright in color. Women of Žemaitija had few plaid skirts. The plaids they did wear usually contained red, green, violet, and black.
Specially woven underskirts had horizontal stripes. Brightly colored wool was usually just woven onto the bottom where it would be seen only when the skirts were tucked in. During the second half of the nineteenth century, white and colored embroidery methods, previously unknown in villages, became widespread among women. With the advent of this technique, embroidered underskirts began to appear. In northern Žemaitija, they took the form of red wool with colored garlands of flowers embroidered on the bottom. However, white linen or cotton underskirts sewn with a white work embroidery (or broderie anglaise) technique were more widespread.
Aprons for special occasions were wide, gathered at the waist and shorter than the skirt by only a handbreath. The oldest style of aprons in Žemaitija was widely worn until the mid-nineteenth century and often later. These aprons were made of white linen with lengthwise woven stripes of red linen or cotton threads. The stripes were of varying widths and configurations. They could be either smooth or zigzag, symmetrical or asymmetrical. Beginning in the mid-nineteenth century, apron styles began to change. In the north, darker rep weave cotton aprons became popular; there was no white base left in them. Smooth or zigzag bands were woven in predominantly red withblue, green, yellow and white. However in southern Žemaitija, red pick-up ornaments (zigzags, clovers and such) replaced the striped red bands of white aprons. Later, the colors of the aprons changed although the patterns remained relatively unchanged. their color was changed. Bright colored wool decorations were woven into greenish or brownish cotton material.
Bodices worn by most women in Žemaitija were very different from those found elsewhere in Lithuania. They had shortened waists, sewn under the breasts. Its laps were first gathered, later - pleated. They were rather short, reaching only the waist. In Žemaitija, it appears that greater proportions of bodices were made from homemade cloth. They were made of wool or half-wool, with horizontal stripes or plaids, woven with finer patterns, and therefore appeared to be duller and darker in color than the skirts.
More prosperous women in Žemaitija wore leather shoes with laces. Those who could not afford shoes wore clogs or soleless leather shoes. Women's clogs worn on special occasions were sometimes very fancy. They had carved or painted designs including geometric shapes, flowers, birds, and such. Socks were generally worn with shoes. These were made of linen in the summer and of wool in the winter. The woolen socks had small colored stripes, geometrical shapes or plant patterns knit in.
The most popular headwear for young women in Žemaitija were crowns (Lith. rangės) made from silk ribbons pleated in several different ways. Galloons were worn less often.
The bonnets of women in nineteenth century Žemaitija were sewn from white or colored cotton, silk or wool cloth. Traditionally, the front edge of the bonnet was decorated because that part could be seen when a scarf was drapedover it. The fanciest bonnets in Žemaitija were sewn out of a delicate, white cotton with the bands at ear-level. They were usually heavily decorated with white work embroidery.
Wimples at this time were no longer being worn in Žemaitija. They were replaced with rather large, square scarves folded diagonally. The method used to tie on these scarves was still remeniscent of that used for a long wimple. Married women tied on their scarves with a knot at the back of the head, which was similar to the method employed with a wimple. This is also how scarves were tied-on in other regions of Lithuania where they had replaced the wimple. Women in Žemaitija did have one method of tying-on the scarf that was unique in Lithuania. They tied them by crossing the ends at the back of the head and bringing them forward to tie them over the forehead. If the scarf was trimmed with woolen tassles, they would then be beautifully displayed on the top of the head. Over this scarf a woman could, especially in cold weather, also drape on an additional scarf and tie its corners under the chin.
Most scarves in Žemaitija were made of linen or cotton and were patterned with a red and white plaid. Some were predominantly red, and others white. In addition to homemade cloth, women also wore prefabricated scarves of various sizes made of thin wool or silk. In the second half of the nineteenth century, scarves of thin white cotton heavily decorated with white work embroidery (broderie anglaise) became popular in Žemaitija. These were tied under the chin, and from a stylistic standpoint, resembled later more urban fashions. Both married women and girls wore this style of scarves.
One of the most extraordinary aspects of the women's costume was the wearing of many shawls and scarves at the same time. In addition to the scarves worn on the head, there could also be one wrapped around the neck and yet another larger one, - covering the shoulders. The majority of these scarves were red plaid. Keeping in mind that skirts and aprons in this region also had contained many red threads, it is not surprising that nineteenth century clothing of Žemaitija is often described as "red."
The large shawls worn on the shoulders deserve special attention. In terms of fabric, they were of two varieties: linen (or cotton) and wool. In old times, both were oblong in shape. Oblong linen stoles still existed in southern Žemaitija in the mid-nineteenth century. They were white, woven in tabby or damask with fine red striped patterns on the ends. The linen stole was a married woman's shawl, it was considered to have protective magical power in the old religion; unmarried girls never wore it. Later, the linen stole was replaced, first in northern Žemaitija, with white and red checked square shawls folded in a triangle.
At the beginning of the nineteenth century, oblong wool shawls were worn in northern and western Žemaitija and, it appears, in earlier times everywhere in Lithuania. The Žemaitija shawls had bands of dark blue, brown, red, white, yellow and green. Later, these were replaced by square wool or half-wool checkered shawls folded corner to corner. These were decorated with rather bright colors among which, again, red was the dominant color.
In cold weather, women in Žemaitija wore matted woolen caftans (sermėga) and shorter coats which, like their bodices, were sewn with high waists. They were decorated with embroidery and fur.
Women in Žemaitija wore one to three rows of necklaces. They were often made of amber, which seems to have been more popular in this region than elsewhere in Lithuania. Necklaces of coral or colored glass were also worn.
Men in Žemaitija wore caftans (sermėga) sewn from homemade matted woolen cloth. They could be either the color of natural wool (gray or brown) or dyed dark green or black. Caftans were gathered at the waist. A later, and more elegant, version was a caftan gathered or pleated only at the back. Caftans were sometimes embellished with decorative threads and black edges. However, in Žemaitija, this kind of decoration on men's clothing was abandoned relatively early.
In the second half of the nineteenth century, men's caftans in Žemaitija were gradually replaced with a coat (surdutas), cut of whose pattern resembled urban clothing. However, these coats were still made of the same homemade matted woolen cloth. Old-fashioned caftans were buttoned to the neck, however the surdutas had lapels and was partially open at the chest. In Žemaitija, villagers, as well as gentlemen, began wearing vests usually sewn from brightly checkered or striped homemade cloth, underneath their coats.
Long trousers in Žemaitija were not particularly wide and were sewn from the same cloth as were the caftans. In the second half of the nineteenth century, sometimes pants were also sewn from brightly colored plaid cloth.
Men's shirts were almost never decorated with woven or embroidered ornaments. If they were decorated, the decoration was usually only on just the very end of the cuffs and on the collar, because these were the only parts of the shirts that could be seen under a caftan. Later, when men began wearing coats, shirts became somewhat showier. Sometimes, the front and the collar were sewn separately from white cotton and attached to the linen shirt. Decorated with fine pleats and threads, such a shirt front resembled that of a gentleman.
Men in Žemaitija wore high boots. Less prosperous men sometimes wore simple shoes such as naginės or clogs both for special occasions as well as for work.
People in nineteenth century Žemaitija did not wear sashes. Men wore leather belts which, in accordance with ancient tradition, were still decorated with metal rivets and plates. In addition, sometimes men in Žemaitija tied caftans with red and white checkered linen or cotton scarves
Men usually wore neckerchiefs around their necks. These were small and made of beautiful, delicate material which was either home made or bought. Men in Žemaitija wore bright kerchiefs which were, in essence, the same as those worn by the women. Those woven at home were red and white checkered. Purchased kerchiefs were made of thin wool, cashemire or silk and were colorfully decorated with plant motifs or eastern designs.
A man's fancy dress was topped with a hat. It was made of felt and usually dark in color. Its crown was a cylinderied or hemispheried and had a straight brim. Men in Žemaitija decorated their hats and valued peacock feathers most highly as decorations. The feathers of roosters and other birds were not considered to be as desirable. Sometimes flowers were also pinned to the hats. Occasionally, red-checkered bands were tied over the hats' crowns, under which more feathers or flowers could be tucked.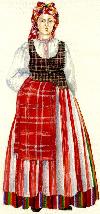 Žemaitija woman.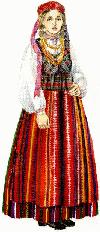 Girl with rangė. 2nd half of the 19th century.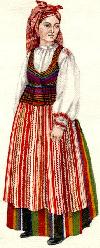 Woman with shawl. The 19th century.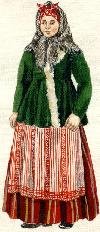 Žemaitija woman. The 19th century.

Woman with stole. Southern Žemaitija. The 19th century.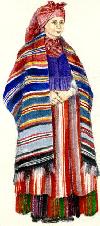 Woman with shawl. Northwest Žemaitija. Beginning of the 19th century.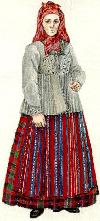 Woman with sermėgėlė. Northwest Žemaitija. Mid -19th century.

Man with sermėga. Mid -19th century.

Man with coat. 2nd half of the 19th century.