Galloon.


Aprons. 2nd half of the 19th century.


Womanís bodice. 1st half of the 19th century.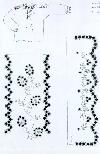 Details of white embroidered shirts.

Skirt cloth.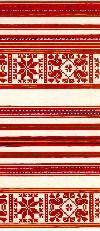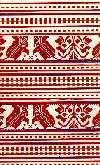 Apron fabric. Beginning of the 19th century.
The Clothing of Suvalkija
Suvalkija was the last ethnographic region to form in Lithuania. During wars with the Order of the Cross, this land practically became a wasteland. In order to resettle the land, many newcomers moved there from the other side of the Nemunas River. They brought with them fashions from their lands. Clothing in Suvalkija (especially that of women) retained characteristics typical of newcomers from Aukūtaitija (Kapsai) and řemaitija (Zanavykai).
The latest surviving womenís shirts in Suvalkija date from the second half of the nineteenth century. They are usually sewn with white cut-work embroidery (broderie anglaise). There are also examples sewn with red and black cross-stitches. Shirts here are distinguishable from those of other regions by their wider, beautifully gathered sleeves and by the decorationsí outstanding precision.
Wide, gathered skirts in Suvalkija were vertically striped. They were dominated by one main color that was usually dark and rich (dark red, blue, violet, or green). Symmetrically grouped narrow multicolored stripes separated wide areas of the main color. Underskirts were finely striped, solid in color, or white and sewn with white work embroidery.
Aprons in Suvalkija were extraordinarily fancy. Aprons of the Kapsai and Zanavykai types differed. The kapsai type laid out stripes and other ornamentation horizontally on the apron, while the zanavykai typeís ornamentation was vertical. The oldest examples of these are sewn from white linen cloth and decorated with red patterns. As early as in the late eighteenth century, among these red patterns appeared new plant motifs alongside the old geometric ones. Colorful overlayed aprons replaced the white ones. On a dark background, multicolored lilies, stars, and other patterns were overlayed with wool threads.
Older bodices in Suvalkija were of the same cut as those of DzŻkija. Around the mid-nineteenth century, bodices of the Kapsai and Zanavykai types were already cut differentialy. Both types sewed fancy bodices from expensive store bought cloth: brocade, silk, wool, and damask. The Zanavykai type wore bodices had short laps, while the Kapsai type had long and flared bodices.
Women in Suvalkija wore pick-up patterned sashes which, like everything in this land, were woven especially precisely. They were distinguished by very plentiful tassels, into which were woven not only threads, but also decorative scraps of cloth. Suvalkija women wore leather shoes and sometimes woodensoles with leather uppers.
Kapsai girls decorated their heads with tall, golden galloons. The tops of these galloons were sometimes also overlayed with flowers or brightly dyed feathers. Zanavykai girls wore narrow galloons or narrow sashes made of beads. Married womenís headdresses were similar to those of DzŻkija. They also wore various bonnets with white linen or cotton scarf tied in a knot at the back of the head. Women covered their shoulders with stoles, which in Suvalkija were woven with especially beautiful, fine, polythreaded, complex and small patterns. Necklaces of chopped coral pieces were the favorite neck ornaments in this region.
In times of cold weather, women wore caftans made of undyed matted woolen cloth decorated with velvet and artificial fur. They also wore large checkered woolen scarves on their shoulders.
Men in Suvalkija wore caftans pleated at the back. These caftans sewn from somewhat light gray or even white matted woolen cloth. In the second half of the nineteenth century, the coats gradually replaced caftans. As elsewhere, men in Suvalkija wore long trousers similar in color to caftans. Tunic style shirts were sewn from white linen cloth and were sometimes modestly decorated with pleats or white embroidery. Men wore decorative pick-up patterned sashes around their waists. They also wore high boots and hats with straight brims that were decorated with feathers and flowers.
At the turn of the century, traditional folk clothing began to change rapidly. It began to more resemble urban fashions, though differences between ethnographic regions were still noticeable for some time. Women began wearing skirts of one dominant color, which were cut wider at the bottom and were progressively less gathered. Shirts became underclothing. Various jackets, usually of one dark color, were worn over them. Aprons were a part of this outfit for some time, but gradually they too were abandoned. The differences in how girls and women wore their headdresses disappeared; both began wearing their scarves knotted under the chin.
Menís clothing changed even more rapidly. In the beginning of the twentieth century, young men everywhere already wore urban fashioned clothing.

Kapsai womanís costume. 2nd half of the 19th century.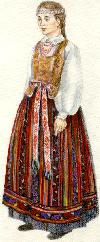 Zanavykai girlís costume. Mid -19th century.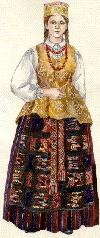 Costume of Kapsai girl with galloon. 2nd half of the 19th century.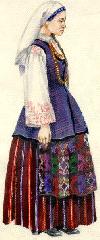 Kapsai womanís costume. 2nd half of the 19th century.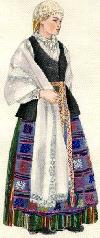 Costume of Kapsai woman with stole. 2nd half of the 19th century.

Manís costume. Mid -19th century.