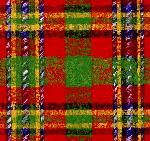 Cloth of wool skirt.


Wrapping styles of foot-cloth.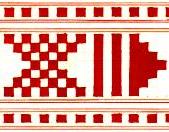 Patterns of wimples. Rokiškis district, Salos and Kupiškis district, Palėvenė.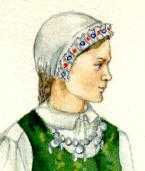 Women with bonnets.

Man's costume. Eastern Aukštaitija. Mid- 19th century.

Man's costume. Northwest Aukštaitija. Mid- 19th century.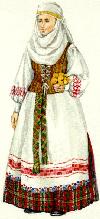 Woman with wimple. Kupiškis district. Mid- 19th century.

CLOTHING OF AUKŠTAITIJA
Stylistically, the 19th century costume of Aukštaitija is considered the most archaic. Aukštaitija' women wore long linen shirts. These have retained old, quite primitive shape refereed to as a tunic with shoulders tabs. Shirts had red ornaments. Sleeves were mostly decorative, sewn with either cuffs or left wide open.
Skirts for special occasions were woolen or linen. A linen skirt in Aukštaitija was most often white with a red border. But woolen skirts were considered better, more festive. An authentic woolen skirt from Aukštaitija was most often gathered and four colored. The dominant colors were green and red enriched by adding smaller amounts of yellow and purple. Skirts were wide, long, and gathered at the waist. For special occasions at least two skirts were worn. When walking on the road or working around the kitchen, the outer skirt (the better one) would be lifted up and tucked in. Many of the underskirts were made of a simpler fabric, and only its border showed.
The apron was the most important part of the Lithuanian peasant woman's costume. It was improper to appear in public without one. Aprons in Aukštaitija were made of white linen, featuring decorative red only or red and blue ornamental stripes in a pick-up weave at the bottom. Older aprons were made of a thin good quality material, however they were simply woven, most often using tabby weave weaving techniques; later ones became more ornamental, damask. The pick-up patterns, just like those found in other linen clothes in Aukštaitija, are very old and geometric, found in this region since the Stone Age.
A woman's bodice (corsage) was especially decorative in Aukštaitija. It was made of home-made wool or a wool mix, and woven in detailed striped, curved and clover patterns. Even more common were expensive, professionally manufactured materials such as gold and silver brokate, silk, velvet, damask, wool. Bodice shapes borrowed baroque, rococo and later fashion trends from Western Europe. Some of the bodices featured gold or silver tone borders. In the front bodices had decorative metal plates with loops. Narrow ribbons and metal chains were used for lacing. Gold and silver tone, green and red bodices were most favored in Aukštaitija.
Women's footwear was made by local shoemakers out of home-treated leather. Everyday footwear - such as naginės (leather soleless shoes) and vyžos (bast shoes), were worn for special occasion only by the poor. Shoes required hand-knit linen (for summer) and woolen (for winter) stockings, whereas foot-cloths were sufficent for naginės or vyžos. Better foot-cloths were made of white cloth supported by kneebands (in Lith. apyvaros) - narrowly woven and braided sashes. In the 19th century, it seems, more plaited sashes were used. These patterns were very simple, however, the color combinations were bright and attractive, using the colors of green, red, yellow, and black.
A galloon was a young maiden's favorite headdress: a heavy, wide ribbon made of metallic thread attached to sturdy silk backing and usually gold-toned, less often silver. Women in Aukštaitija would criss-cross the ends of the galloon and fastened in the back of their heads. A more modest version was a crown made of ribbons, laces, beads, etc. These crowns were quite tall, widening at the top. Wide silk ribbons could be attached to either the crown or the galloon. Some particular shapes were worn only for special occasions. For example, a bridesmaid would wear a kalpokas at a wedding - a crown decorated with fake flowers at the top.
Married women in Aukštaitija wore a wimple, a very old style of headdress, until the end of the 19th century. Wimples woven from the thinnest and brightest white cloth and decorated with narrow red ornaments, finished of with delicate tassels or bobbin laces at the ends. A more modest everyday headdress was the bonnet made from linen netted lace, or white or colored material (at times expensive brokate, for instance).
Bead necklaces were used as neck adornments. Silver bead necklaces unique to Aukštaitija were highly valued. There were also coral and amber necklaces, while red and other colored glass beads were more common among the poor.
In cold weather women wore matted woolen caftan (sermėga), long or short, decorated with black stripes and velvet borders. It was very important to have a wool scarf to wear on the shoulders, sometimes on the head as well. Thin home made linen, silk or wool paisley scarves were worn only on a special occasion.
Men in Aukštaitija wore grey, brown or brownish undyed matted woolen caftans (sermėga). In eastern Aukštaitija they were sewn gathered at the waist, and in western Aukštaitija - with a pleated back or sides. Similar cloth was also used to make long trousers. Shirts for special occasions were sewn in the same way as women's shirts,- like a tunic with shoulders tabs however, they were not quite as decorated, since men's shirts did not really show underneath the caftan. A felt hat was an important part of their costume. One of the most popular styles was the so-called magierka , a hat with a small brim turned upwards. A ribbon with flowers and feathers was tied to the top of the hat. A home made or purchased neckerchief was worn on the neck.
Translated by Monika Žebriūnaitė Edgar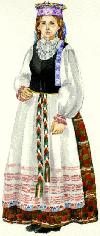 Girl with kalpokas. Kupiškis district. 2nd half of the 19th century.

Patterns of Aukštaitija women' shirt sleeves. Švencionys district, Mielagenai. 2nd half of the 19th century.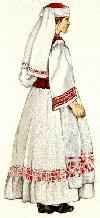 Woman's costume. Švenčionys district, Mielagėnai. 2nd half of the 19th century.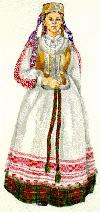 Girl's costume. Pasvalys district. Mid-19th century.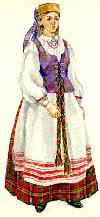 Girl's costume. Anykščiai district. Mid-19th century.

Woman's costume. Panevėžys district. Mid-19th century.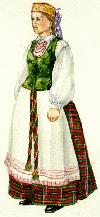 Girl with galloon. Utena district. Mid- 19th century.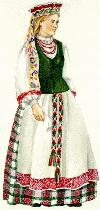 Girl with crown. Zarasai district. 19th century.